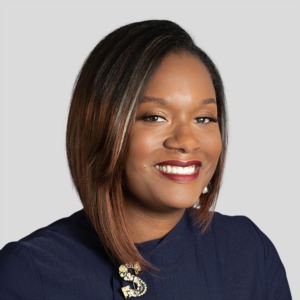 Meet Trayawn Brown, a dynamic and accomplished real estate professional who is making waves in the Washington, DC, Maryland, and Virginia area. Trayawn's number one goal is to build lifelong relationships with her clients, and she has been successful in achieving that through her extensive knowledge of the market and unwavering commitment to client satisfaction.

As a seasoned agent, Trayawn has seen the highs and lows of the real estate market, and her clients benefit greatly from her experience and negotiating skills. She is dedicated to listening to their needs and providing personalized service to ensure a smooth and successful transaction. Trayawn acts as an advocate for her clients and takes their trust very seriously.
Trayawn is praised by her clients for her enthusiasm, hard work, and exceptional customer service. She goes above and beyond to provide the special attention that every client deserves, whether they are buying or selling a property.

When she's not selling real estate, Trayawn enjoys spending time with her family, traveling, reading, and exercising. She is also committed to giving back to her community through various charitable endeavors. Trayawn regularly donates her time and resources to homeless shelters, St. Jude Hospital, Children's Hospital, Hospital for Sick Children, Salvation Army, and Goodwill, where she donates clothes, shoes, and coats.

Overall, Trayawn Brown is an outstanding real estate professional who is passionate about helping her clients achieve their goals and making a positive impact in her community.